---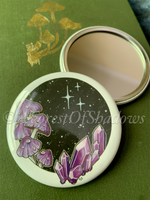 These 58mm size pocket mirrors feature the magical artwork of shrooms and crystals by A Forest of Shadows.
Perfect for mycophiles and crystal lovers, these handy mirrors are just the perfect size to fit into makeup bags, pockets and whenever you're on the go!
Please note, these are not open and close mirrors.